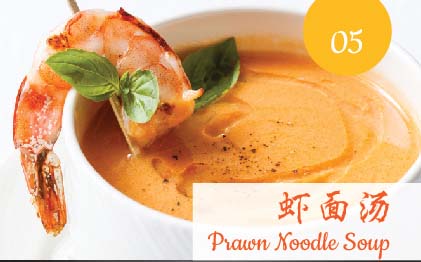 MATERIAL
Prawn 200g(with shell)
Prawn Noodle Soup Paste 1 package (120g)
Salt 5g
White Sugar 3g
Water 1 liter
INSTRUCTIONS
Rinse thoroughly all the materials.
Add 1 liter of water into the glass of Detox Juicer, followed by all materials. Close the cover to tight. Press 'Soup' and then 'Start' on the display.
You would hear a 'Dee..dee' sound when it is done. Manually press grade 9 with 4 minutes and press 'Start'. The noodle soup is now done!
材料
虾子 200克(有壳的)
虾面汤酱料 1包(120克)
盐 5克
白糖 3克
清水 1公升
做法
把材料清洗干净。
将1公升清水倒入解毒汁机的玻璃杯里,再把其他的材料加入,盖紧杯盖。在显示屏上选择'Soup'的功能再按'Start'。
当完成时你就会听到滴...滴声:这时候再按!手动输入9档4分钟再按(start)!完成了这个部分美味的虾面汤就可以完成了!