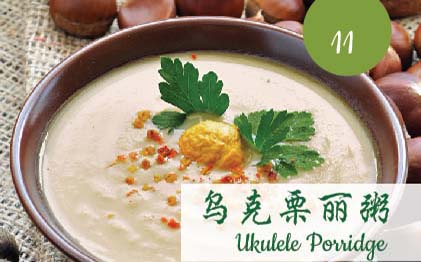 MATERIAL
Brown Rice 150g
Chestnut 45g
Wolfberry 10g
Dried Longan 20g
Water 1 liter
Salt 3g
INSTRUCTIONS
Remove skin of chestnuts and cook them. Rinse thoroughly all the materials.
Add 1 liter of water into the glass of Detox Juicer. Press 'Heat' and then 'Start'. Add all the materials when the water is boiled.
Press 'Rice Paste' and then 'Start'. You would hear a 'Dee..dee' sound when it is done.Remove the cover and the kaya is ready to be served.
BENEFITS
Improve blood circulation,Prevent Osteoporosis, Anti-oxidation,Prevent Arterial sclerosis, Relieve muscle pain.
材料
糙米 150克
栗子 45克
枸杞 10克
桂圆干 20克
清水 1公升
盐 3克
做法
将栗子去壳膜煮熟备用,其它材料洗净。
将清水1公升加入玻璃杯里,在显示屏上选择(Heat)的功能再按(start),等待水煮沸腾后,再将所有的材料加入,盖紧杯盖。
在显示屏上选择(Rice Paste)的功能再按(start)。当完成时你就会听到滴....滴声音打开杯盖,倒出饮用。
功效
益血呈补虚,预防⻣骼⻣质疏松,预防动脉硬化,抗氧化,舒缓筋⻣疼痛。