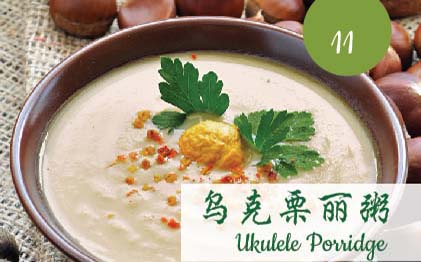 MATERIAL
Brown Rice 150g
Chestnut 45g
Wolfberry 10g
Dried Longan 20g
Water 1 liter
Salt 3g
INSTRUCTIONS
Remove skin of chestnuts and cook them. Rinse thoroughly all the materials.
Add 1 liter of water into the glass of Nutrition Cooking Machine.
Press 'Baby Paste' and then 'Start'. You would hear a 'Dee..dee' sound when it is done.
Then press 'Fruits/Vege' and press 'Start' on the display. Serve upon completion.
BENEFITS
Improve blood circulation, Prevent Osteoporosis, Anti-oxidation, Prevent Arterial sclerosis, Relieve muscle pain.
材料
糙米 150克
栗子 45克
枸杞 10克
桂圆干 20克
清水 1公升
盐 3克
做法
将栗子去壳膜煮熟备用,其它材料洗净。
将清水1公升加入玻璃杯里。
在显示屏上选择(Baby Paste)的功能再按(start)。当完成时你就会听到滴....滴声。
然后选择 'Fruits/Vege' 的功能再按 'Start'。完成后,即可享用。
功效
益血呈补虚, 预防⻣骼⻣质疏松, 预防动脉硬化, 抗氧化, 舒缓筋⻣疼痛。