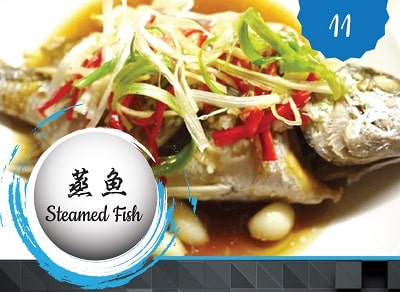 MATERIAL
Fish meat 1 piece
Young ginger 5 g
Garlic 3 g
Water 1 cup
Seasoning
Soy sauce 2 tablespoons
Oyster sauce 1 teaspoon
Cooking oil 1 teaspoon
Sesame oil 1 teaspoon
Shaoxing wine 1 teaspoon
Rock sugar 1 g
Utensils
Steam rack 1 piece
White steel plate 1 piece
INSTRUCTIONS
Shred the ginger and grind the garlic.
Pour water into pot. Put fish on the white steel plate with steam rack in the pot. Close the lid then choose 'Steam' and press '–' to set timer to 1 minute. (It depends on the thickness of the fish meat, maximum 3 minutes)
Cooked fish may carry out from cooker once pressure cooker release steam automatically.
Choose 'Fry' to preheat the pot, pour in cooking oil and sesame oil to heat it up. Sauté the ginger, then sauté the garlic. Add other seasonings, and choose 'Cancel' after it boils. Pour it onto fish and the dish is ready to be served.
材料
调味料
酱油 2汤匙
蚝油 1茶匙
清油 1茶匙
麻油 1茶匙
花雕酒 1茶匙
冰糖 1克
用具
做法
先将子姜切丝,蒜米切碎。
将清水倒入㶽里后,先将鱼肉放于白钢碟上,再连同蒸架一起放入锅中,将盖关上,选择'Steam'的功能,再按下'–',将时间调至1分钟。(时间依鱼肉厚度而定,最长为3分钟)
待自动排气后,将蒸好的鱼取出。
选择'Fry'的功能,待热锅后,倒入清油和麻油烧热。先将姜丝爆香后,加入蒜米爆香,再加入其它调味料一起煮沸后,按下'Cancel'键。将鱼肉拌上煮好的酱汁,即可食用。