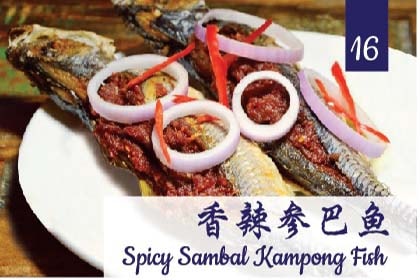 Ingredients
Utensils
Air Fryer Accessories(Fry Pan)
Seasoning
Sambal sauce 1 package
Calamondin lime 1pcs
INSTRUCTIONS
Wash the ingredients thoroughly.Cut open the calamondin lime and the kampong fish(from both sides of the fins at the back of kampong fish).
Add sambal sauce into the cutting of the kampong fish(add to full).
First,insert the fry pan.Preheat the air fryer (200c) by adjusting the time to the lowest.When you see '_ _' on the screen,you will hear a 'dee...dee...dee' sound,pull out the frying basket and insert the ingredients.Adjust the temperature to 180 degree and set the time range to 15 minutes.
When you hear a 'dee...dee...dee' sound.,the meal is ready to be served.
材料
用具
调味料
步骤
将食材洗净,桔子切开。沿着甘榜鱼的背部(鱼翅两旁)切开。
将参巴酱放入甘榜鱼身已切开的部位(只要塞满即可).
把配件煎板放入,按预热功能(200c)把时间调到最低,屏幕出现'_ _',听见滴......滴声后,拉出炸篮把食材放入,在显示屏幕上按15分钟180c。
听见滴......滴声后,美味佳肴即可食用。