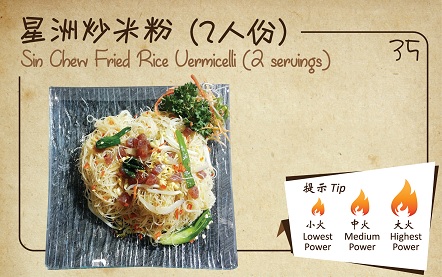 INGREDIENTS
Onion 30g
Chinese Cabbage 50g
Scallion 15g
Bean Sprout 50g
Chinese Sausage 40g
Egg 2 pieces
Rice Vermicelli 250g
Water 40mml
Cooking Oil 30ml
SEASONING
Soy Sauce 10ml
Chili Sauce 10g
Tomato Sauce 2ml
Aginomoto 1g
Pepper Powder little
Sesame Oil little
STEPS
Soak rice vermicelli for 2 hours.Rinse ingredients,Julienne Chinese cabbage,onion and scallion. Cut Chinese sausage into cube.
Incline cooker to 45'angle y pressing left side button. Select "Stir-Fry" mode, set timer to 6 minutes and highest power.
Pour in cooking oil. After 1 minute, pour egg. when egg turns into golden, add in onion slice, Chinese cabbage and Chinese sausage.
When flavored come out, add in rice vermicelli and water, stir well by using chopstick.
When fuming, add in Choy Sum, pork slice,squid and shrimp. After 30 seconds, put rice vermicelli then close lid.
After put all seasonings, add in bean sprout and scallion,and stir well by using chopstick. Dish served.
材料
大洋葱 30克
大白菜 50克
青葱 15克
豆芽 50克
腊肠 40克
鸡蛋 2颗
米粉 250克
清水 40毫升
清油 30毫升
调味料
生抽 10毫升
辣椒酱 10克
喼汁 2毫升
味精 1克
胡椒粉 少许
麻油 少许
做法
将米粉浸泡2小时,材料洗净。将大洋葱,大白菜和青葱切条,腊肠切粒。
按着左边的按键,将锅身调至45度。现在'炒菜'功能,将时间调至6分钟,火力调至最大。
倒入清油。约1分钟后,加入鸡蛋炒至金黄色,再将洋葱丝,大白菜丝和腊肠加入。
炒至散发发出香味后,加入米粉和清水,食用筷子搅均。
加入所有调味料,再将豆芽和青葱加入,食用筷子搅均,即可食用。