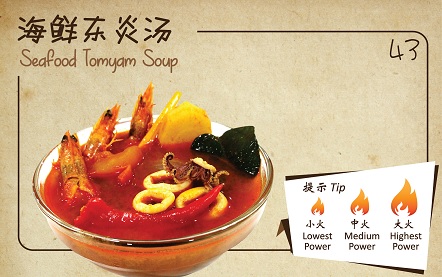 INGREDIENTS
Galanga 30g
Lemongrass 3pcs
Chili 3pcs
Onion 60g
Tomato 80g
Kaffir Lime Leaves 3pcs
Lime 1pc
Shrimp 10pcs
Squid 80g
SEASONING
Tomyam Sauce 2 tablespoons
Salt 1 teaspoon
Sugar 1 teaspoon
Water 800ml
STEPS
Rinse ingredients, smash lemongrass and chili. Cut onions, tomatoes,limes, and squids to pieces.
Incline cooker to 90' angle by pressing left side button. Select "Optional" mode, set timer to 7 minutes and highest power.
Pour in water. When water is boiled,put all seasonings and ingredients(except shrimp and squid).
After 2 minutes, add shrimps and squids,close lid. When time is up, dish can be served.
材料
南姜 30克
香茅 3根
辣椒 3条
洋葱 60克
番茄 80克
疯柑叶 3片
酸柑 1颗
鲜虾 10只
苏东 80克
调味料
东炎酱 2汤匙
盐 1茶匙
糖 1茶匙
清水 800毫升
做法
将材料洗净,香茅和辣椒拍碎。洋葱,番茄,酸柑和鱿鱼切块。
按着左边的按键,将锅身调至90度。现在'自选'功能,将时间调至7分钟,火力调至最大。
倒入清水,待水煮沸后,加入所有调味料和材料(除了鲜虾和苏东).
当时间剩下2分钟时,加入鲜虾和苏东,将盖关上,当时间停止后,即可食用。