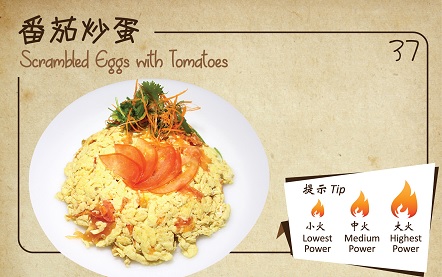 INGREDIENTS
SEASONING
Aginomoto 2g
Salt 2g
Pepper Powder Little
Chicken Essence Powder 2g
Cooking Oil 100ml
STEPS
Rinse ingredients.Mix all the ingredients and seasonings(except cooking oil) in a bowl.
Incline cooker to 45' angle by pressing left side button. Select "Stir-Fry" mode, set timer to 5 minutes and highest power.
Pour in cooking oil. When fuming, add the mixed ingredients and seasonings,stir-fry with a spatula.
About 1 minute and 50 seconds,dish can be served.
材料
调味料
味精 2克
盐 2克
胡椒粉 少许
鸡精粉 2克
清油 100毫升
做法
将材料洗净。将所有材料和调味料(除了清油)搅均。
按着左边的按键,将锅身调至45度。现在'炒菜'功能,将时间调至5分钟,火力调至最大。
倒入清油。当开始冒烟时,将已搅均的材料和调味料加入,用锅铲稍微炒均。
约1分钟50秒后,即可食用。