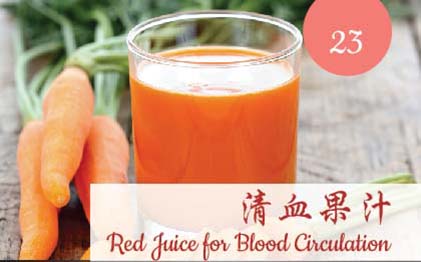 MATERIAL
Red Carrot 100g
Apple 200g
Mandarin Orange 1 piece
Onion 5g
Tender Ginger 5g
Yogurt 600ml
Ice Cube 80g
INSTRUCTIONS
Remove the skin of orange and the core of apple.
Add all the materials, yogurt and ice cube into the glass of Detox Juicer. Close the cover to tight.
Press 'Red Juice' and then 'Start' on the display.
ou would hear a 'Dee..dee' sound when it is done. The juice is ready to be served.
** The diet will be effective if the juice is consumed continously for 21 days.
BENEFITS
Improve blood circulation,Reduce exhaustion,Improve stomach health,Reduce high blood pressure and cholesterol.
MATERIAL
Red Carrot 100g
Apple 200g
Mandarin Orange 1 piece
Onion 5g
Tender Ginger 5g
Yogurt 600ml
Ice Cube 80g
INSTRUCTIONS
将橘子去皮;苹果去芯。
将所有的⻝材,酸乳和冰块放入解毒汁机的玻璃杯里。盖紧杯盖。
在显示屏上选择「清血果汁」的功能再按(start)。
当您听到滴....滴....滴声后,清血果汁就完成。即可享用。
** 注意:这个⻝疗必须要喝21天,就会看到功效。
BENEFITS
有效于净化血液,减轻疲劳,胃病症状。关节炎;降低 高血压,糖尿病,高脂血症。