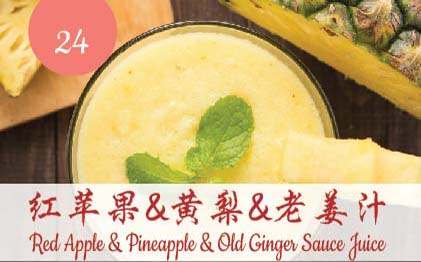 MATERIAL
Red Apple 100g(Removed seed)
Pineapple 180g
Old Ginger 5g
Water 60g
Honey 20g
Ice Cubes 60g
INSTRUCTIONS
Remove the skin of pineapple and old ginger. Slice ginger into pieces and rinse thoroughly all the materials.
Add old ginger, red apple and pineapple into the glass of the Detox Juicer, followed by honey and ice cube. Close the cover to tight.
Press 'Red Juice' and then 'Start' on the display. Remove the cover and the juice is ready to be served.
BENEFITS
MATERIAL
红苹果 100克(去种子)
⻩梨 180克
老姜 5克
清水 60毫升
蜜糖 20克
冰块 60克
做法
将⻩梨和姜去皮 ,姜切片。把所有的材料清洗净。
将老姜,红苹果⻩梨放进解毒汁机的玻璃杯 ,再将蜜糖和冰块加入,盖紧杯盖。
在显示屏上选择"清血果汁"再按"start"即可,完成后 直接打开杯盖,倒出饮用。
功效