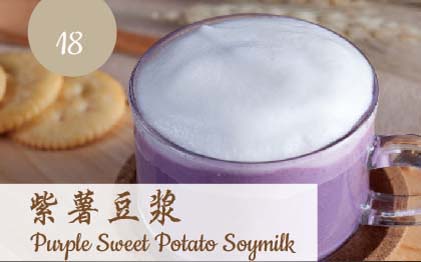 MATERIAL
Purple Sweet Potato 130g
Soybean 32g (half of supplied cup)
Crystal Sugar 40g
Water 1 liter
Pandan Leave 1piece (cut into section)
INSTRUCTIONS
Rinse thoroughly all the materials.
Insert all the materials into the glass of nutrition cooking machine, add in 1 Liter water. Close the cover to tight.
Press 'Soymilk' and then 'Start' on the display. You would hear a 'Dee..dee' sound when it is done.
Then press 'Fruits/Vege' and press 'Start' on the display. Remove the cover and the soymilk is ready to be served.
BENEFITS
Improve liver health, Anti-oxidation.
MATERIAL
紫番薯 130克
黄豆 32克 (半杯-附赠杯子)
冰糖 40克
清水 1公升
班兰叶 1支 (切段)
做法
将所有的材料清洗干净。
将材料放入静音破壁机 接着倒入1公升的清水然后盖紧杯盖。
在显示屏上选择 (Soymilk) 的功能再按 (start)。完成时你就会听到滴....滴声 。
然后选择 (Fruits/Vege)的功能再(按(start)。完成后打开杯盖,倒出饮用。
功效