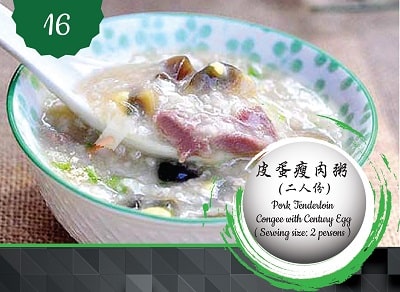 MATERIAL
Century Egg 1 piece
Rice 1 cup
Pork Tenderloin 100 g
Water 8 cups
Seasoning (according to taste preference)
Salt ½ teaspoon/li>
Sesame oil 1 teaspoon
Soy sauce little
Pepper : little
INSTRUCTIONS
Rinse ingredients, remove the cooked century egg shell and dice it, slice the pork tenderloin.
After that, put rice into the pot, then add water and stir well with sliced pork tenderloin, close the lid and press 'Braise' button.
Wait for pressure cooker to release steam automa􀆟cally then open the lid, put seasonings, and stir well! Add the diced century egg and the congee is ready to be served.
材料
皮蛋 1颗
白米 1杯
瘦肉 100克
清水 8杯
调味料(依个人口味)
盐 ½茶匙
麻油 1茶匙
酱油 少许
胡椒粉 少许
做法
将皮蛋去壳切粒,瘦肉切片。
将白米,清水和瘦肉一起放入锅里搅拌均匀后,将盖关上,选择'Braise'的功能。
待自动排气后,加入调味料搅拌均匀,再将皮蛋粒加入,即可食用。