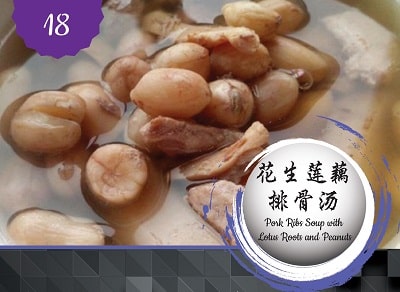 MATERIAL
Lotus roots : 600 g
Peanuts : 2 cups(measurement cup)
Pork ribs 400 g
Red dates 10 pieces
Wolfberry : 30 pieces
Dried squid 10 g
Water 4 Liters
Seasoning
MSG : 4 teaspoons
Salt 4 teaspoons
Rock sugar : 6 g
INSTRUCTIONS
Chop the pork ribs, slice the lotus roots and dried squid.
Sauté the dried squid, fill half pot of water, add in other ingredients and seasonings into the pot. Close the lid and choose 'Soup' button. After that, the dish is ready to be served.
Small Tips
Press 'Soup' button then press '+' button to set timer up to 60 minutes for thicker taste.
材料
莲藕 600克
花生 2杯(使用量杯)
排骨 400克
红枣 10颗
枸杞 30颗
鱿鱼干 10克
清水 4公升
调味料
做法
先将排骨剁块,莲藕和鱿鱼干切片。
先将鱿鱼干爆香,倒入半锅清水后,再将其它材料和调味料加入。将盖关上,选择'Soup'的功能。完成后,即可食用。
小贴士
在选择'Soup'的功能时,可按下'+',将时间调至60分钟,味道会更浓厚。