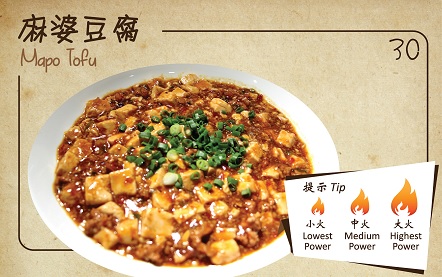 INGREDIENTS
Bean Curd 1 box
Mince Pork 50g
Shrimp 4pcs
Red Chilies 3g
Onion 10g
Capsicum 6g
Scallion 4g
Garlic 5g
Egg White 1pc
SEASONING
Spicy Bean Sauce 30g
Red Coloring Approximately
Aginomoto 2g
Sugar 3g
Soy Sauce 6ml
Oyster Sauce 15ml
Cooking Oil 26ml
Water 160ml
Tapioca Starch Approximately (Mix with some water)
STEPS
Rinse ingredients. Mince capsicum, red chilies, onion and garlic.Cut shrimp and bean curd into cubes.
Mix soy sauce, oyster sauce, and sugar with water in a bowl.
Incline cooker to 45' angle by pressing left side button.Select "Stir-Fry" mode, set timer to 5 minutes and highest power.
Pour in cooking. When fuming, add the garlic,mince pork and shrimp, select lower power, stir-fry with a spatula.
When flavored, adjust the power to medium. Add all ingredients (except bean curd and egg white), then stir-fry.
Add in bean sauce, adjust power to highest then stir-fry evenly for 30 seconds. Pour in water,mixed ingredients,and red coloring.
Put in the bean curd. About 50 seconds, add in mixed tapioca starch, press "power' button to stop running.Pour in egg white and stir-fry evenly. Serve it on a plate and garnish the dish with scallion.
材料
豆腐 1盒
猪肉碎 50克
虾仁 4只
红辣椒 3克
大葱 10克
青灯笼椒 6克
青葱花 4克
蒜头 5克
蛋白 1颗
调味料
麻婆豆腐酱 30克
红色素 适量
味精 2克
糖 3克
薯粉 适量(加入少许清水搅均)
生抽 6毫升
耗油 15毫升
清油 26毫升
清水 160毫升
做法
将材料洗净,青灯笼椒,红辣椒,大葱和蒜头切碎。虾仁切粒,豆腐切块。
将生抽,耗油,味精和糖加入清水搅均。
按着左边的按键,将锅身调至45度。选择'炒菜',将时间调至5分钟,火力调至最大。
加入清油。当开始冒烟时,加入蒜米,猪肉碎和虾仁,将火力调至最大,食用锅铲稍微炒均。
炒至散发出香味后,将火力调至最大,加入所有材料(除了豆腐和蛋白)炒均。
加入麻婆豆腐酱,将火力调至最大,约30秒后,倒入清水,已搅均的调味料和红色素。
加入豆腐,约50秒后,加入已搅均的薯粉,按Power按钮停止运作。倒入蛋白搅均后,取出。撒上青葱花,即可食用。