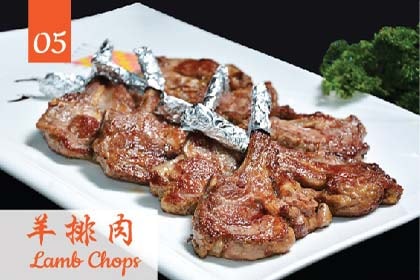 Ingredients
Utensils
Aluminium foil and Air Fryer Accessories Frying Pan
Seasoning
soy sauce 5g
black pepper 1g
white pepper 1g
some cooking wine
Some ginger juice
INSTRUCTIONS
Cut the lamb chop into cubes.Season the lamb chop evenly and marinate for 30 minutes.
First,Insert the fry pain.Preheat the air fryer (200c) by adjusting the time to the lowest. When you see '_ _' on the screen,you will hear a 'dee...dee...dee' sound,pull out the frying basket,insert the ingredients.Adjust the temperature to 200 degree and set the time range to 8 minutes.
When you hear a 'dee..dee..dee',the meal is ready to be served.
材料
用具
调味料
黑胡椒粉 1克
白胡椒粉 1克
酱油 5克
料酒 少许
姜汁 少许
步骤
将羊排切块,再把配料放入,均匀的腌制30分钟。
先把配件煎板放入,按预热功能(200c)把时间调到最低,屏幕出现'_ _',听见滴......滴声后,拉出炸盘把食材放入,在显示屏幕上按8分钟200c。
听见滴......滴声后,美味佳肴即可食用。