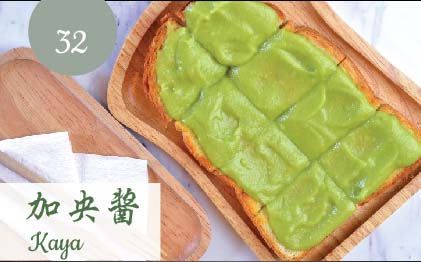 MATERIAL
Coconut Milk 200g
Egg (Chicken/Duck) 4 pieces
Brown Sugar 180g
Pandan Leave 4 pieces
INSTRUCTIONS
Add 200g of coconut milk into the glass of Detox Juicer.Press 'heating' and adjust to 90 degree. Close the cover to tight then press 'Start'.
Once it is done, open the cover, add in brown sugar, followed by eggs. Manually press grade 9 with 6 minutes and press 'Start'.
Add in pandan leave slowly when blending. Remove the cover and the kaya is ready to be served.
材料
椰浆 200克
鸡蛋或鸭蛋 4粒
⻩糖 180克
班兰叶 4片
做法
将200克的椰浆倒入解毒汁机玻璃杯里关杯盖,在显 示屏上选择(Heating)调到90度再按(start)。
停了后,打开杯盖先放入⻩糖后放鸡蛋!将时间调整6 分钟速度9档再按(start)。
当启动时,打开小盖放入班兰叶搅拌。完成后打开杯盖,立刻倒出。 待冷后凝固,即可上桌。