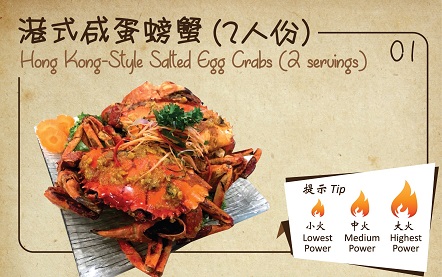 INGREDIENTS
Crab 2 pieces
Salted Egg Yolks 5 pieces
Cooking Oil 20ml
Butter 100g
Small Red Chillies ½ pieces
SEASONINGS
Aginomoto 5g
Sugar 15g
Evaporated Milk 15ml
Pandan Leaves Little
Oat Approximately
STEPS
Fry crab.Steam and dice the salted egg yolks,mince pandan leaves and red chillies.
Incline cooker to 45' angle by pressing left side button.Select "Stir-Fry" mode,set timer to 5 minutes and highest power.
Pour in cooking oil and butter together.Onc butter melted,select lowest power and pour in salted egg yolk.
When flavored comes out, put red chillies,pandan leaves,aginamoto and sugar together then stir well.
Put crabs. After 30 seconds, pour in evaporated milk. Dished served.
材料
螃蟹 2 只
咸蛋黄 5颗
清油 20毫升
牛油 100克
小红椒 ½条
调味料
味精 5克
砂糖 15克
淡奶 15毫升
班兰叶 少许
麦片 适量
做法
将螃蟹炸熟。蒸熟咸蛋黄切碎,班兰叶和小红椒切碎。
按着左边的按键,将锅身调至45度。选择"炒菜"功能,将时间调至5分钟,火力调至最大。
将清油和牛油一起加入,将牛油溶化后,将火力调至最小,加入咸蛋黄。
炒至散发出香味后,将小红椒,班兰叶,味精和糖一起加入搅均。
将螃蟹加入锅里,30秒后倒入淡奶。完成后,即可食用。