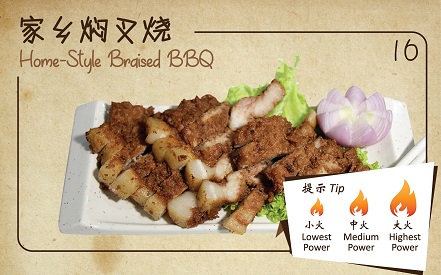 INGREDIENTS
Belly Pork 200g
Garlic 10g
Ginger 10g
SEASONINGS
Bean Curd 2pcs
Bean Paste 1teaspoon
Soy Sauce 5ml
Oyster Sauce 10ml
Dark Soy Sauce Little
Red Coloring Little
Sugar 1 tablespoon
Water 200ml
Cooking Oil 2 tablespoon
Marinade
Soy Sauce 5ml
Oyster Sauce 5ml
Salt 2g
Fiver Spices Powder 3g
Tapioca Starch Approximately
Cooking Oil 10ml
STEPS
Rinse ingredients,mince garlic and ginger.Peel belly pork and beat it evenly with meat tenderizer.Mix ingredients and seasonings with belly pork,marinate for 1 day.
Incline cooker to 45' angle by pressing left side button. Select "Optional" mode, set timer to 35 minutes and highest power, and press "Rotate".
Pour in cooking oil and marinated belly pork.At last reamining 34 minutes, close lid, incline cooker to 90' angle and lowest power.
At last remaining 5 minutes, incline cooker to 45' angle. When time is up, then dish can be served.
材料
调味料
南乳 2块
面鼓 1茶匙
生抽 5毫升
蚝油 10毫升
黑酱油 少许
红色素水 少许
白糖 1 汤匙
清水 200毫升
清油 2汤匙
做法
将材料洗净,蒜头和子姜切碎。花肉去皮,使用松肉捶敲均匀。将所有材料和调味料搅均,加入花肉中,腌制一天。
按着左边的按键,将锅身调至45度。选择'自动'功能,将时间调至35分钟,火力调至最大,并点击'旋转'功能。
加入清油和已腌制好的花肉。当时间剩下34分钟时,将盖关上,将锅身调至90度,火力调至最小。
当时间剩下5分钟时,将锅身调至45度。当时间停止后,即可食用。