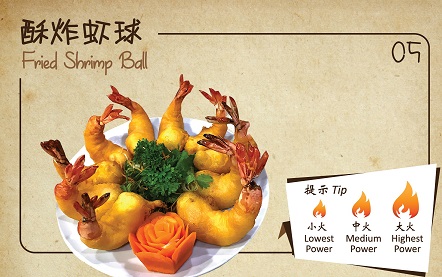 INGREDIENTS
Shrimp 400g
Cooking Wine 500ml
Corn flour Approximately (mix with some water)
UTENSILS
Stainless Steel Filter Mesh 1 piece
STEPS
Clean shrimp by removes shell and head, then rinse it.
Select "Stir-Fry" mode, set timer to 15 minutes and select highest power.
Pour in cooking oil. When bubbling, dip the shrimp to corn flour and put into cooker for fry.
After 1 minute,ladle it up by using a stainless stell filter and filter out excess oil. Dished Served.
材料
明虾 400克
清油 500毫升
炸粉 适量(加入少许清水搅均)
用具
做法
将明虾去头和壳后,洗净。
选择'炒菜'功能,将时间调至15分钟,火力调至最大。
倒入清油,当看到冒泡后,将明虾沾上炸粉,放入锅内炸至1分钟。。
使用不锈钢过滤网将虾只上多余的油份滤掉,即可食用。