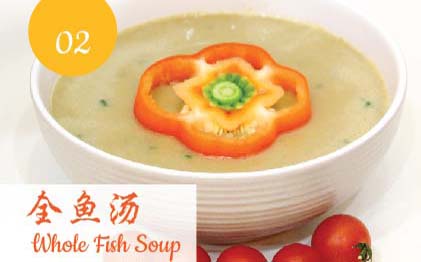 MATERIAL
Pickled Vege 120g
Tender Ginger 15g
Tomatoes 130g
Green Onion 20g (1 Piece)
Fish Kampung 350g
Salt 4g
Water 1 liter
INSTRUCTIONS
Rinse thoroughly all the materials. Chop tender ginger into pieces.
Add 1 liter of water into the glass of Detox Juicer. Add Fish Kampung and then followed by other materials. Close the cover to tight.
Press 'Soup' and then 'Start' on the display. You would hear a 'Dee..dee' sound when it is done.
Manually press grade 9 with 4 minutes and press 'Start'. Remove the cover once it is done and the soup is ready to be served.
MATERIAL
榨菜-120克
子姜 15克
番茄-130克
⻘葱-20克(1棵)
甘榜⻥-350克
盐-4克
清水1公升
做法
将材料洗净、子姜切块
将1公升的清水倒入解毒汁机的玻璃杯里,先把甘榜鱼放进后,再将其它的材料加入,盖紧杯盖。
在显示屏上选择(Soup)的功能再按(start)。当完成时你就会听到滴....滴声。
手动输入9档4分钟再按(start),完成后打开杯盖,倒出饮用。