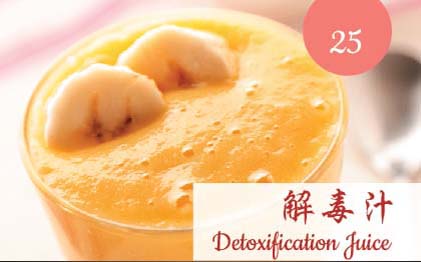 MATERIAL
Broccoli 30g
Cabbage 30g
Red Carrot 50g
Tomato 50g
Red Apple 1 piece(seed removed)
Banana 1 piece (with the skin)
Crystal Sugar 25g
Water 500ml
INSTRUCTIONS
Rinse thoroughly all the materials.
Add broccoli and red carrot into the glass of Detox Juicer, followed by cabbage and tomato, then the rest of the material. Close the cover to tight..
Press 'Green Juice' and then 'Start' on the display.
Manually press grade 9 with 1 minute and press 'Start'. Remove the cover once it is done and the juice is ready to be served.
BENEFITS
Detoxification,Develop immune system.
材料
⻄兰花 30g
包菜 30g
红萝 50g
番茄 50g
红苹果 1粒(必须去掉种子 )
香蕉 1条 ( 不需要去皮 )
冰糖 25g
清水 500ml
做法
将所有的蔬果都清洗干净。
将⻄兰花和红萝卜放入解毒汁的玻璃杯里,再放入包菜和番茄,过后把剩余的材料都一起加入, 盖紧杯盖。
在显示屏上选择'解毒汁'的功能再按(start)。
手动输入9档一分钟再按'Start'后.完成后打开盖,即可享用。
功效