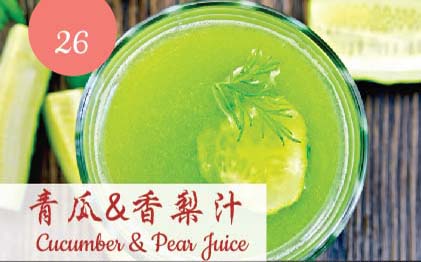 MATERIAL
Cucumber 300g
Pear 400g
Honey 20g
Ice 60g
INSTRUCTIONS
Remove the core fragrant pear, rinse thoroughly all the materials and chop them into pieces.
Insert all the materials into the glass of nutrition cooking machine. Add in ice cubes and honey, close the cover to tight.
Press 'Fruits & Vege' and then 'Start' on the display. Remove the cover and the juice is ready to be served.
BENEFITS
Cooling, Detoxification, Lower cholesterol level.
材料
青瓜 300克
香梨 400克
蜜糖 20克
冰块 60克
做法
将香梨去芯,把所有材料都洗净和切块。
将蔬果放入静音破壁机的玻璃杯 ,再将冰块和蜜糖加入,盖紧杯盖。
在显示屏上选择"Fruits/Vege"再按"start"即可,完成打开杯盖,直接倒出饮用。
BENEFITS