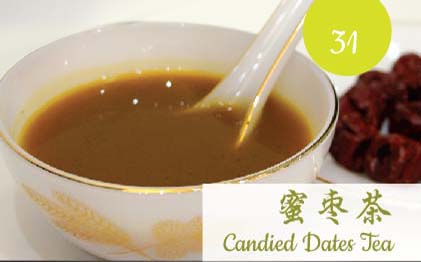 MATERIAL
Candied Dates 45g
Seedless Dates 30g
Longan 30g
Water 1 liter
INSTRUCTIONS
Rinse thoroughly all the materials.
Add 1 liter of water into the glass of Detox Juicer, followed by all materials. Close the cover to tight.
Press 'Soup' and then 'Start' on the display.You would hear a 'Dee..dee' sound when it is done./li>
Manually press grade 9 with 2 minutes and press 'Start'. Turn off and remove the cover once it is done and the tea is ready to be served..
BENEFITS
Improve lungs health,Improve immune system.
MATERIAL
蜜棗 45g克
无核紅棗 30克
桂圓 30克
清水 1公升
做法
将材料都清洗干净。
将1公升的清水倒入解毒汁机的玻璃杯里。接着把其它的材料加入 ,盖紧杯盖。
在显示屏上选择'Soup'的功能再按'Start'。当完成时你就会听到滴...滴声。
手动输入9档2分钟再按'Start'。完成后关机。打开杯盖,即可享用。
BENEFITS