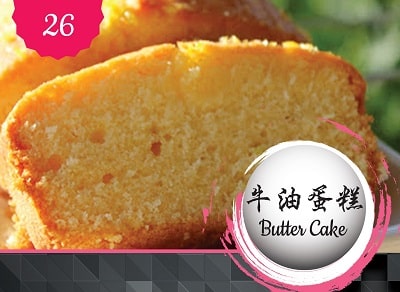 MATERIAL
Butter : 40 ml
Egg 4 pieces
Water 40 ml
Cake flour mixture 200 g
Utensils:
INSTRUCTIONS
Whip 4 eggs with cake mixer until bubbling, melt the butter and put into cake mixer with other ingredients then whip well.
Choose 'Fry' to preheat the pot. A􀅌er that, apply a thin layer of butter and press 'Cancel'.
Pour the whipped cake flour mixture from cake mixer to pot. Close the lid and choose 'Cake'. After that, the cake is ready to be served.
Small tips:
It is easier to remove the cake if submerge the pot with water for 10 minutes.
材料
牛油 40毫升
鸡蛋 4颗
清水 40毫升
混合好的蛋糕粉 200克
用具
做法
将4颗鸡蛋放入蛋糕搅拌器里, 搅至冒泡。把牛油融化后,和其他的材料一起倒入搅拌器里搅拌。
选择'Fry'的功能,待热锅后,涂上一层薄薄的牛油 再按下'Cancel'键。
将已搅拌好的蛋糕粉倒入锅中,将盖关上,选择'Cake'的功能(过程中请勿将盖打开)。完成后,即可食用。
小贴士
把内锅浸泡在水中约10分钟,较容易将蛋糕取出。