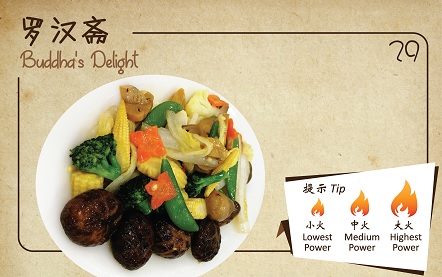 INGREDIENTS
Chinese Cabbage 130g
Broccoli 40g
Carrot 40g
Sugar Peas 5pcs
Cauliflower 50g
Shiitake Mushroom 5pcs
Mushroom 3pcs
Straw Mushroom 3pcs
Corn Shoot 3pcs
SEASONING
Chicken Essence Powder 3g
Aginomoto 3g
Salt 3g
Sugar 3g
Cooking Oil 1 tablespoon
Water 30ml
Cooking Oil 1 tablespoon
Tapioca Starch Approximately (Mix with some water)
STEPS
Rinse ingredients,cut Chinese Cabbage,cauliflower,broccoli,corn shoot and sugar peas into cubes. Slice carrot, mushroom and straw mushrooms.
Incline cooker to 90' angle by pressing left side button. Pour in 1 big bowl of water and 1 tablespoon of cooking oil. Select "Stir- Fry' mode, highest power then press "Rotate".
When water is boiled, add all ingredients. When the timer is stopped, take it out. Drain off the water from pot and wipe it dry.
Incline cooker to 45' angle by pressing left side button. Select "Stir-Fry" mode,set timer to 2 minutes and highest power.
Pour in cooking oil. About 15 seconds, put all ingredients and seasonings. At last 1 minute, add approximate volume of tapioca starch to stir evenly until the time is up, the n dish can be served.
材料
大白菜 130克
西兰花 40克
萝卜 40克
甜豆 5条
花菜 50克
香菇 5朵
口菇 3朵
草菇 3朵
玉米笋 3条
调味料
鸡精粉 3克
味精 3克
盐 3克
糖 3克
清油 1汤匙
清水 30毫升
木薯粉 少许(加入少许清水搅均)
做法
将材料洗净,大白菜,西兰花,花菜,玉米笋和甜瓜切块。萝卜,口菇和草菇切片。
按着左边的按键,将锅身调至90度。倒入1大腕清水和1汤匙清油。选择'炒菜'功能,将火力调至最大,点击'旋转'功能。
待水煮沸后,加入所有材料。当时间停止后,将所有材料取出备用。将锅身里的水倒出,抹干内锅。
按着左边的按键,将孤身调至45度。选择'炒菜'功能,将时间调至2分钟,火力调至最大。
倒入清油,约15秒后,加入所有材料和调味料。当时间剩下1分钟时,加入适量的木薯粉炒至时间停止,即可食用。