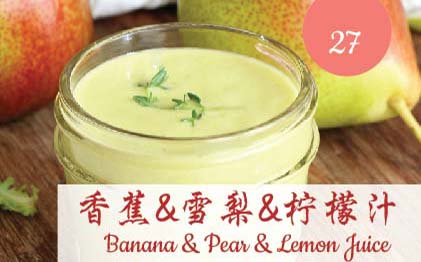 MATERIAL
Banana 400g
Pear 300g
Lemon 50g
Honey 2 tablesppons
Ice Cube 100g
INSTRUCTIONS
Remove the skin of banana and lemon, and the core of asian pear. Rinse thoroughly all the materials.
Add all the fruits into the glass of Detox Juicer. Add in ice cubes and honey, close the cover to tight.
Press 'Red Juice' and then 'Start' on the display.Turn off the machine once it is done, remove the cover and the juice is ready to be served.
BENEFITS
Improve blood circulation,Prevent kidney stones, Prolong lungs health.
材料
香蕉 400克
雪梨 300克
柠檬 50克
蜜糖 2汤匙
冰块 100克
做法
将香蕉和柠檬去皮,雪梨去芯,把所有材料都洗净。
将水果放进解毒汁机玻璃杯里,再将蜜糖和冰块加入,盖紧杯盖。
在显示屏上选择(清血果汁)再按(start)。完成后关机,打开杯盖,倒出饮用。
功效