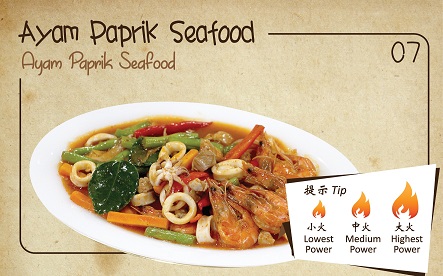 INGREDIENTS
Chicken 50g
Squid 100g
Shrimp 80g
Carrot 20g
Kaffir Lime Leaves 2pcs
Onion 20g
Red Chilies 3pcs
French Bean 40g
Garlic 5pc
Cooking Oil 1tablespoon
SEASONINGS
Chillipo ½ tablespoon
Chili sauce 2 tablespoon
Tomato Sauce ½ tablespoon
Salt 4g
Water 100ml
Tapioca Starch Approximately (Mix with some water)
STEPS
Rinse ingredients.Julienne French bean,onion and carrot, chop chicken into cubes and cut squid into ring shape. Smash red chilies and garlic.Mix all seasoning in bowl.
Incline cooker to 45' angle by pressing left side button. Select "Stir-Fry" mode, set timer to 5 minutes and highest power.
Pour in cooking oil. When fuming, put garlic to fry until it turns color to golden,add onion, carrot, French bean and red chilies to saute.
At last remaining 4 minutes, add in mixed seasonings, chicken and shrimp.When last remaining 3 minutes, add in squid ring, close lid.
At last remaining 1 minutes, add in mixed tapioca starch and stir well.When time is up,dish can be served.
材料
鸡肉 50克
苏东 100克
鲜虾 80克
红萝卜 20克
疯柑叶 2片
大葱 20克
小辣椒 3条
桂豆 40克
蒜头 5克
清油 1汤匙
调味料
辣椒糊 ½汤匙
辣椒酱 2汤匙
番茄酱 ½汤匙
盐 4克
清水 100毫升
薯粉 适量(加入少许清水搅均)
做法
将材料洗净,桂豆,大葱和红萝卜切条,鸡肉切粒,苏东切圈,小辣椒和蒜头拍碎。将所有调味料搅均。
按着左边的按键,将锅身调至45度。选择'炒菜'功能,将时间调至5分钟。火力调至最大。
倒入清油。当开始冒烟时,加入蒜米爆至金黄色后,加入大葱,红萝卜,桂豆和小辣椒爆香。
当时间剩下4分钟时,加入已搅均的调味料,鸡肉和鲜虾。当时间剩下3分钟时,再加入苏东圈,将盖关上。
当时间剩下1分钟时,加入已搅均的薯粉,炒均。当时间停止后,即可食用。